September 21, 2013
Notes from Konya:
Sema (the whirling Dervish ceremony) on Saturday night, full moon, fall equinox. Unfortunately I was very tired and not quite as present as I would have liked. Prior to attending I circumambulated the huge cemetery of people, all facing east, who wanted to be buried close to Mevlana Rumi. There was a lecture before the dervish ceremony by a Sufi scholar from Bangladesh, now living in Konya. A very soft-spoken man, who would have liked to know the name of everyone in the audience.
The dervish ceremony was in a large circular hall, with four or five musicians and four singers, and about twenty dervishes. The ceremony began slowly, with the elder teacher coming out first, slowly slowly leading all the students out onto the floor. They sat on one side on sheep skins and listened to the presence and the music for maybe twenty minutes before bowing and getting up to first pass by the master one by one, and then back into the whirling. For ten to fifteen minutes they whirled, slowly circling the stage, until the music and lighting changed and they backed into the edge of the floor in groups of two, three or four, standing shoulder to shoulder holding each other up, with their arms folded across their chests and hands on their shoulders. This process was repeated four or five times before the end of the ceremony, at which time they slowly filed out.
There is a stage outside the Mevlana Cultural Center where Sema takes place, enclosed by a round lintel on which is inscribed in many languages the Sufi saying "Either seem what you are or be what you seem." Words for presencing honestly.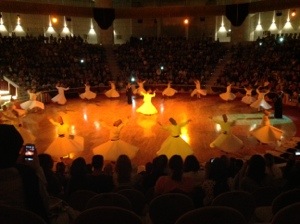 3,624 total views, 2 views today