(The following was written on August 22, 2014.)
This morning we journeyed by van out of Tanzania into Kenya across the border towns. Along the highway is the commercial aspect of all the villages that occupy the region. This narrow perspective of human life here is financially very poor and highly populated. The buildings are run down, built of cheap materials, often seeing gutted or incomplete cement-brick shells with no roofs and buildings made of what looks like reclaimed advertising. I am sure that behind the scenes is bustling village life, full of farmland and simple housing. Two of the people on our trip had arrived a few days early and had the opportunity to be invited into the village in Arusha. I did not detect from her report any note of destitution or lack of dignity. I saw how easy it is to make a prejudicial assumption of pity for the living conditions here, being so contrasted with our privileged living in the US. I try to make no such assumption, that these people are necessarily suffering because their circumstances. People are resilient, and unless they are subjected to violence or extreme conditions (which admittedly can be subtle), functional pride can create dignified life anywhere. I do not want to deny that some level of violence may have a role here, but I don't want to assume it either. I don't know the historic conditions or the individual stories. We can suffer anywhere, as well as create and find beauty. Even in the dusty crowds in shacks along the street I am certain that many many lives of great blessing thrive.
After going through immigration at the border in both countries, we were driven to a small open airport and flew over different terrain to this part of Kenya that was purchased by the Nature Conservancy for the Lewa Conservancy to protect and sustain the wildlife. It is palpably different. The animals seem tamer or calmer, more prone to be nearby, whereas in the Serengeti they were much more skittish, except for the lions, who are completely confident and self possessed. We had been unable to see rhinos in the Serengeti, but in our first hour driving out to the lodge we saw a momma and baby (soooo cuuuute !!! –add all infantile intonations you can stand) not more than ten feet away from us. Animals are walking around the grounds of the lodge: waterbucks, little blackface monkeys who will come and steal your breakfast if you are not careful, incredibly colorful birds, a huge owl pair, and there is a lion couple who are heavily in estrus right now, making passionate love every twenty minutes in their honeymoon pad just beyond the fence, witnessed by two of our crew in their outing this afternoon. Mom and I stayed back and relaxed and Mom got a great massage. Our tent has a fireplace, full bathroom with two sinks, a claw foot tub and separate shower, lovely deck and very attentive service. Great food too. Incredible luxury in the middle of the open wild.
The people are so easy and warm. I am impressed with the gracious kindness emanating from all the native people I have encountered. My own guardedness that I saw upon arriving in Africa is happily softening into joy at being able to feel the hearts of those around me.
Tomorrow we are going to visit a Maasai village, one that is not so commercial. I am really excited about that.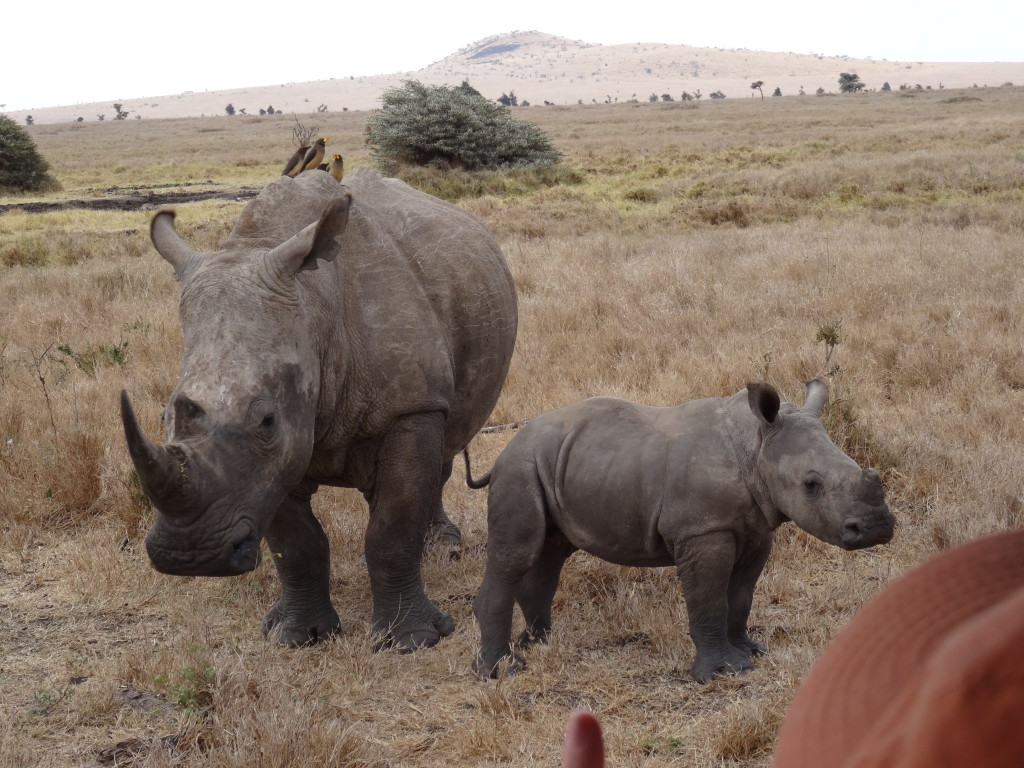 629 total views, 1 views today